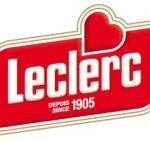 Website Groupe Leclerc ltée
Groupe Leclerc is looking for candidates to work full time in production. If you are curious, working and you like to bite into the challenges, then we want to know you!
As an operator in production, you will be responsible for the proper operation of the equipment that will be entrusted to you, the preparation of products or their packaging.
Schedule: Monday to Thursday 22:30 to 8:30am
Salary: $ 18.50 / hr (nightly bonus included)
WHAT WE OFFER:
Free access to fitness center
Full meal at a low price at the on-site cafeteria
Group Insurance
Pension plan
Free parking and access to a carpooling platform
Access to the employee store where you can stock up on inexpensive cookies for you and your family
Uniform provided and washed on site
The opportunity to join a group established for more than 114 years and constantly reinventing itself
A technological environment where you will have the opportunity to rub shoulders with the latest innovations
Working in a world-class company with eight plants in North America
A stimulating work environment with a pleasant smell of biscuits!